The Baku Convention Center has various expo zones that can be changed for any event format. There are bright entries with mobile check-in points, balconies with direct access to office space and elevators, winter boulevards with panoramic street views and many more.  Creating exhibition stands, arranging a presentation event or a public show, installing a lounge area with leather furniture or building open-air tents - the options are nearly limitless.
MAIN EXPO ZONE
The spacious hall (1750 m2) is equipped with two mobile screens consisting of 9 LCD panels. The space has a comfortable lounge area and tables for those who would like to work in a friendly atmosphere. The furniture can be removed from the hall, after which the space is fully prepared for stand installation. There are two escalators and elevators leading to the office area and the second-floor cafe.
AUDITORIUM / EXPO
Hall's reconfiguration into banquet mode creates a 2150 m2 site where you can build walls, install stands and podiums for any kind of expos, e.g. an auto presentation or a fashion show. Another available option is folding the central wall between the exhibition area and the Auditorium hall to open up space for visitors and make the guests' circulation more comfortable. 
BOULEVARDS
Boulevards A and B, which pass through the entire area of the second floor, are connected to the main expo zone and restaurant area, have direct access to the conference rooms, the main Auditorium hall, and additional side entrances. Each balcony on the third floor has access to the boulevards. Natural light illuminates both boulevards through the glass dome of the building's roof. Vertical and horizontal monitors along the boulevards can display logos of companies or required video content.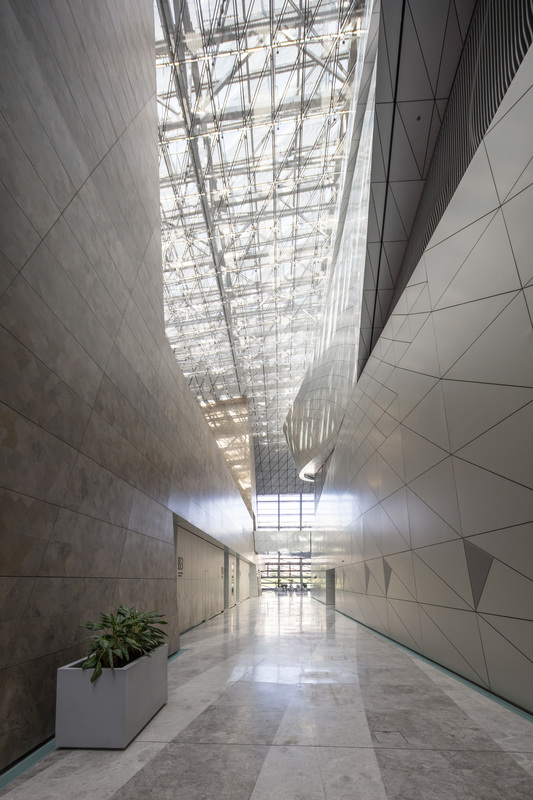 OUTDOOR EXPO ZONE
The 4000 m2 site area can be used for an open-air presentation or a small festival. The space is surrounded by a green lawn and has easy access to the territory. Furthermore, its closest location to the entrance of the building allows, if desired, to divide the event scenario into outside and inside parts.